Leadxen for Education Institutes – Startup Guide
By Macwill on October 29th, 2018 | Case Studies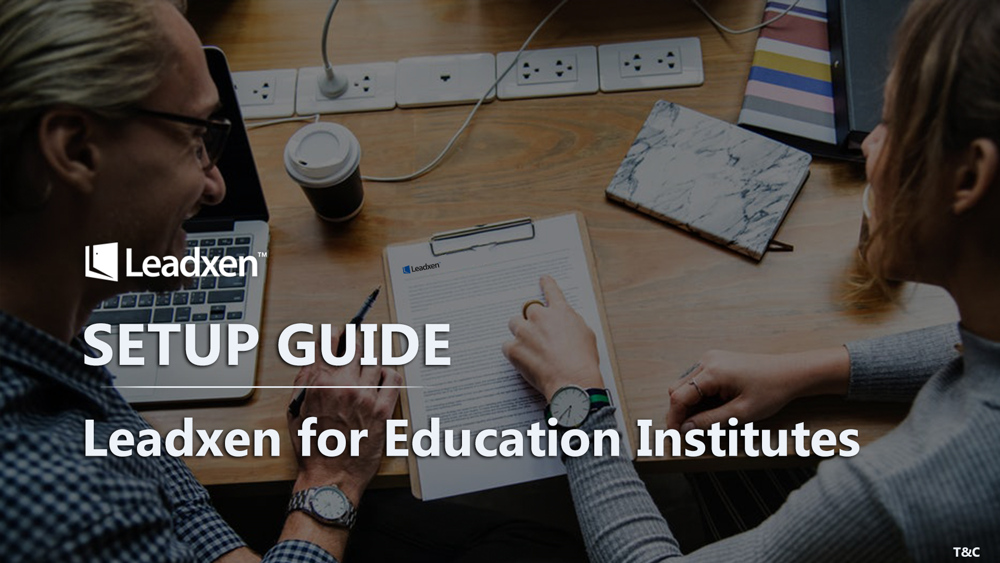 Nowadays education centers do have competition and have to keep their follow up to bring more students and thus increase their profit. Institute owner collect the student data and contact to students to join coaching/training. It is very difficult to manage so many numbers of students or their parents and remember their queries.
Because Leadxen can adapt into any sales process, it is being used by many education institutes. Knowing how other institutes have benefited from Leadxen setup, we can help you improve the sales of your centre by step by step setup guide. It is used by various educational institutes including industrial training, coaching classes, professional courses and many more. You can save records of students, documents, contact details, set reminder for call, joining and much more. It may also help at identifying trends which become feedback for marketing, admissions or other departments included in the process. Furthermore, Leadxen provides real-time numbers, data, and graphs that may be useful in decision making. You may track every aspect of your student life cycle. For instance, where in the recruitment process a prospective student is lost.
Benefits of Leadxen for Coaching Institute Services
Never miss to follow up your student or any task
Easily store students contact details, emails and attach files
Set reminder for call to students, response, joining dates, pay or pending fees
Track your sales team performance and activity
Easy import and export facility
Quick Search engine of your student leads
Track your team activity & performance
Insight reports daily, weekly, monthly or annually
Automatic email summary
Data privacy & security
We know that how much the data of their customers and other significant details are so important and security is also matter. So we make sure and assure that we don't share your account data or any information. For more details your read our privacy policy page which should clear all your worries and doubts. Your data is safe with us and you can simply rely on us.  Also we provide 30 days backup and export for all accounts in case you need it. For more information you can read our security page.
Setup Leadxen for Coaching Institute Services
This is just an example of basic needs in any education centre but surely if you have better setup ideas then you can carry on with your. That is the beauty of Leadxen. We took use case of an Indian education institute.
If you have account, then sign in or use 14 days free trial account.
Settings
Administrator can change setting according to his own requirements. In right hand side click on user name and click "System Settings". Most of the settings are good to go by default but there are some special modules which you can turn on.
Stream and Milestones Setup
You can create different stream in education system like as Computer Language, Medical Exam Coaching, Govt Exam Coaching etc.
Click on user name and then click on System Settings. Now go to stream section and click on add new button. Give the name of stream Computer Language and click on add new. Your computer language stream has created successfully. Now you can create next new stream with same steps.
Computer Language: In this you can take records of students for professional courses, for example, PHP, VB, Dot Net, HTML, Photoshop etc.
Medical Exam Coaching:  In this you can add NEET course and JEE test Coaching details.
Govt Exam Coaching: You can store information regarding bank test, IAS test, SSC, Defense Exam, State Exam, Teacher Eligibility Test and much more.
Stream
Milestone
Description
Computer Courses
Prospect
Lead for any computer course
Follow Up
Follow for course documentation
Warm
Confirm for courses
Closing
Close the lead
Medical Exam Coaching
Prospect
Inquiry for Medical Exam NEET or JEE
Follow Up
Follow up for requirements
Confirm
Interested in Medical Exam Coaching
Closing
Close the inquiry
Govt Exam Coaching
Prospect
New student for Govt Exam Coaching
Follow Up
Follow Up the inquiry
Warm
Lead Successful
Closing
Close the inquiry
Products
In products, you can define which services that offer to customers. An education system offers products such as Web Course, Programming Language, Designing, Bank Exams, Government Exams etc.
You can create products according your requirements. In left side click on More section and open Products section. Then click on ADD New button and give the name of products and fees of course.
For instance, we created these products in this setup:
Defence Coaching
Programming Language
Bank/Clerk Exams
Government Exam
Sources
There are infinite sources of lead generation when the lead volume is high. You can track the lead from in which source comes to you.
You can create source if you have permissions from admin. In left side click on More section and open Source. Then click on add new button and give the name of source like as phone call, website, social media etc.
Most preferred sources for your analytics:
Google
Paid Campaign
Facebook
YouTube
Website
TV Ad
Newspaper Ad
Tele-caller
Generate Annual/Monthly revenue report
The reporting is the most important feature of the Leadxen for education institutes, and you can get all pivotal report of every employee like as how many won students registered, lost leads, all action report performed by an individual employee, revenue reports, leads reports, activity report and much more.
That was all and one time task for you now sit back and make your employee run through it and focus more on your institute growth.
Contact us if you need any support or guidance. We will help you implement Leadxen according to your work flow. Our team will reach you out for easy & quick setup.
Start your free trial today!
Signup Now